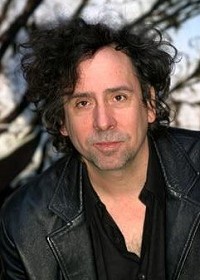 Born August 25, 1958 in Burbank, California, USA.
Timothy William Burton
is an American director, screenwriter and actor, known for the creativity of his films, always about fairy-tale, and for his
visionary
skills.
During his childhood, Tim finds refuge from the difficulties at home and at school in his imagination, stimulated by frequent visions of horror films and low budget, to which he will pay tribute later in his film
Ed Wood
(biography of director
Edward D. Wood Jr.
played by
Johnny Depp
) and tribute to what some judged the worst director in the world.
After high school he won a Disney scholarship to study at the
California Institute of the Arts
in Valencia, California. Here he is passionate about animation, starting to study the character animation. At Cal Arts he meets his future workmate
Henry Selick
, who will be chosen by Burton for the direction of
The Nightmare Before Christmas
, with which he immediately gave life to a great friendship and a strong working relationship. After three years of studies he is hired by
Walt Disney Studios
as an animator apprentice.
During his stay at Disney, Burton is not happy, even though it is during these years that he begins to write and draw the illustrations on which he will base, years later, his famous
The Nightmare Before Christmas
, thus beginning to elaborate his very characteristic style, often drawing from the art world (his way of drawing skeletons, for example, is inspired by the works of the painter
Edward Burra
).
After his first
excursus
in the animated world he will dedicate himself to the live-action that so much fame has brought him. He does not abandon the fantasy genre that his mind creates, indeed, contaminates every film and genre that directs.
But animation is always at the center of his desires and after the success of his character
Jack Skeleton
he recreates the same atmospheres in the successful feature film
The Corpse Bride
(2005), but it will certainly not be the last one.
"His imagination and inspiration have left a clear mark in Hollywood, his workplace but a place he does not feel like belonging to. Uncomfortable character but praised by the fans, will be his visions (like those of other few brave directors and producers) to save the cinema and the whole world that revolves around it."
[ Fra - source Wikipedia ]