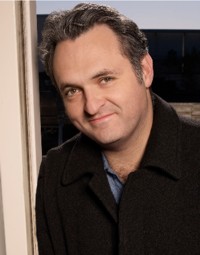 Gennadij Borisovič Tartakovskij
(this is his full name) was born on January 17, 1970 in Moscow. He is a Russian director, screenwriter and animator.
Moved first to Italy and then to the United States at the age of seven, first in Ohio and then in Chicago where he develop his passion for comics.
He studies first at the
Columbia College
of Chicago and then in Los Angeles where he studied animation at the
California Institute of the Arts
. It is here, at CalArt where Genndy animates and directs his first works. One of those is titled
Dexter's Laboratory
. He find his first job in Spain, in the studios where
Batman: The Animated Series
and
The Critic
series are developed.
But is
Craig McCracken
(at
Hanna-Barbera
) to expressively request the talents of Tartakovsky and his friend of studies
Robert Renzetti
, a point that marks a turning point in the career of the Russian animator.
From
Dexter's Laboratory
to
The Powerpuff Girls
and
Samurai Jack
, its name is now a guarantee of quality for animated series.
George Lucas
, father of
Star Wars
franchise, wants him on the direction of
Star Wars: Clone Wars
, an animated series that tells the events that occurred between the movies
Attack of the Clones
and
The Revenge of the Sith
.
Only in 2011 he finally reach the big screens with
Sony Pictures Animation
and the direction of the blockbuster
Hotel Transylvania
, first movie of a popular franchise.
[ source Wikipedia ]