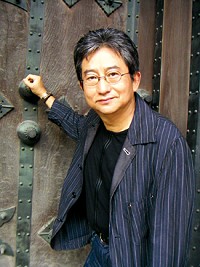 Kiyoshi Nagai
, known as
Go Nagai
was born in Wajima, a Japanese city of Ishikawa Prefecture, on September 6, 1945.
He is a mangaka and a very famous writer, known above all for having brought innovations such as mecha (mechanical), robot driven by man, and the first, true, erotic comic strip among Japanese manga.
Mazinger Z
(
Majinga Zetto
) and
School without modesty
(
Harenchi Gakuen
) are examples of these two innovations.
Its beginning in the world of manga dates back to 1965 as a collaborator before and in '67 then as a true author. His first work is titled
Meakashi Porikiki
. But the real turning point came in 1970, when he founded the
Dynamic Production
, a house created to produce and distribute his works.
From paper to video is then a taken for granted and fundamental step. Nagai makes available to television productions and, always as creator, gives birth to
Devilman
, one of his most famous works in the world. But one of the key years is certainly the '72, the year in which also sees the light
Cutie Honey
, a story that combines the super-heroic themes with those erotic that so close to heart. In this year he also sees the light
Mazinga Z
in an animated key, the first animated series starring a super-robot. 1975 is the year of two other important success stories in our country:
Jeeg robot of steel
and
Ufo Robot Goldrake
. A real phenomenon of custom in the imagination of many generations all over the world.
"Go Nagai has feed and continues today, thanks to new productions and remakes of his main works, the imagination of many fans and not of cinema, animation and Japanese comics. right in the Olympus of the greatest characters ever conceived, but great importance must also be given to the issues he faces, themes that are always current that have traveled along every continent and for over thirty years, a style that is still unique in its kind."
[ Source: Wikipedia - IMDB ]