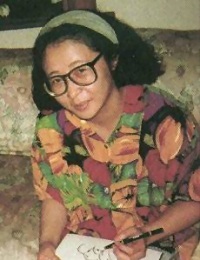 Born October 10, 1957 in Niigata, Japan. She is a Japanese comic book author also known as the "Queen of the manga".
Her debut in the comic is with
Lum
(
Urusei Yatsura
) in 1978, a character that alone will consecrate it in the Olympus of the greatest mangaka. Lum ends in 1987 together with
Maison Ikkoku
, another popular series published by Takahashi in the same period. In 1987 she also create
Ranma 1/2
probably his best known work and among the most famous comics in the world, which ended only in 1996. In the same year he started his last work,
InuYasha
, which ended in 2008, another work of global importance.
She is one of the richest women in Japan. The same
Shōnen Sunday
, a weekly magazine that hosts her stories, publishes her comments on the most varied subjects: her favorite baseball team (Hanshin Tigers), the band she loves most (Shazna), his memories.
The design of Rumiko Takahashi is among the most recognizable within the manga. The Takahashi has always been drawn with the brush, avoiding the nib or the ink pen (which is now the most widely used instrument). The graphic characterization of the characters is very simple and effective: this graphic ability is one of the ingredients of her great success, because her drawings are received by every type of audience. The ability to synthesize graphics is a typical data of the manga and is considered as the direct continuation of the work of the great classical Japanese artists.
The peculiar characteristic of Takahashi's opera omnia is that it has conquered a large audience of both sexes, renouncing at the same time the typical canons of manga conceived for a predominantly female audience.
[ Fra - source: Wikipedia ]