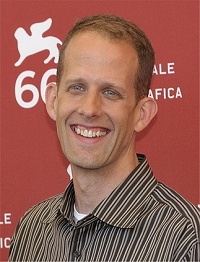 Born on 10 August 1968 in Bloomington, Minnesota (USA).
His full name is
Peter Hans Docter
, he is an animator, director and screenwriter of animated films.
As a young man he grows in the countryside in almost isolation, far from the big cities. After studying philosophy and art at the University of Minnesota, he will move to the
California Institute of the Arts
where he will also be a
Student Academy Award
and complete his studies in 1990.
He has clear ideas and wants to find a job at
Disney
but he gets offers from
Pixar
and the producers of
The Simpsons
. Eventually he will accept the call of the first and will move to California at only 21 years.
It will be immediately good in the Emerville studios and under Lasseter will cover many roles, but for the first feature film
Toy Story
(1995) will take care of the script and, in particular, the development of the character
Buzz Lightyear
(which admits being very inspired by itself!).
From then it is history. Become one of the key figures of the studios (in the meantime bought by Disney). His contributions to
Toy Story 2
,
A Bug's Life
to his first feature film as a director include:
Monster's & Co.
, one of the greatest achievements made in
Pixar
. Two years later, the title of
Studio Ghibli
Howl's Moving Castle
for the US edition will also be adapted.
In 2008 he will return to writing with another masterpiece:
WALL-E
and in 2009 again behind the camera (virtual) with
UP
.
Not even the prizes he received are counted; from the Oscars, as for the last
UP
, even nominated as best film of the year, up to the Golden Lion for the career delivered to Pete and the other great directors
Pixar
in the 2009 edition of the
Venice Film Festival
.
In 2018 he has been named Chief Creative Officer of the
Pixar Animation Studios
instead of Lasseter.
[ source Wikipedia ]