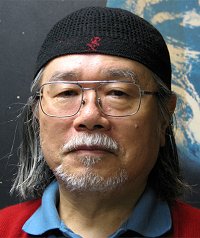 Born January 25, 1938 in Kurume, Japan. His real name is
Akira Matsumoto
and is an author of comics (manga) and animator.
Akira Matsumoto, known as Leiji, develops early interest in drawing, and won a competition at the age of just 15, thanks to which he published his first work, in 1954,
The Adventures of a Bee
, on the pages of the
Manga Shonen
magazine, which is a great success.
He starts working on shojo manga, published in women's magazines, with which he draws the attention of the general public. He then moved on to series for youngsters, specializing in those of science fiction that made him famous, characterized by his more attentive trait to suggestions than to realism. His first work of this kind is from 1968,
Sexaroid
.
He chooses the term Leiji for himself as an artistic title, as the spelling of the corresponding kanji strongly recalls the design of the Zero, the Japanese fighters of the Second World War, in a stylized and cartoonistic way, the same that will be finally used by the kamikaze pilots. His father was a Zero pilot.
Among his most famous manga are
Galaxy Express 999, Space Battleship Yamato
,
Danguard A, Queen Emeraldas, The Queen of a Thousand Years
and, above all,
Captain Harlock
, a character to whom he dedicated four distinct series, including the penultimate, a short cycle of OAV, conceived as a science-fiction revisitation of the Wagnerian saga of the Nibelungen.
All these series, which often intertwine with each other through the themes, mixing characters and recurring events, have all been transposed into lucky souls, edited by Matsumoto himself. Since the seventies, in fact, he is also directly dedicated to animation, in particular the general direction, feature films and television series.
Leiji Matsumoto is also the author of
Interstella 5555
, an anime-musical with the soundtrack of
Daft Punk
. Some extracts from the film have been proposed in autonomous terms as a video clip for the singles that the French band distributed during the launch of their album.
"The characters and universes conceived and designed by Leiji are unique works, characterized by a romantic-baroque trait, works of rare beauty that are unequaled throughout the world. The stories, often imbued with the personal experience of the Second World War, are profound, full of melancholy but also of hope; a science fiction seen and experienced as a work, a space-work to be more precise. Heroes from the low profile placed on a common background, never glossy, and placed all within the same universe, just like the Marvel or DC superheroes."
[ Text: Fra - source: Wikipedia ]