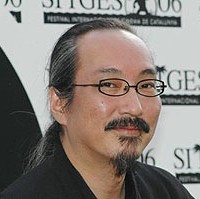 [ October, 12 - 1963 / August, 24 - 2010 ]
Born October 12, 1963 in Hokkaido, Japan. As a young man he decided to become a painter and dedicated his first years of university studies to Musashino Art University. He graduated in 1990 and in those years he found the time to publish his first comic book (manga)
Kaikisen
(The siren line), which arouses the attention of
Katsuhiro Otomo
, who calls him to collaborate with his
World Apartment Horror
manga, and a few years later at the
Seraphim
manga.
It is the same Otomo who proposed his first use in an animated production: scenographer in the OAV
Roujin Z
, written by the master Otomo. From one great artist to another, in 1993 he was commissioned to edit sets and layouts for the feature film
Patlabor 2: The Movie
by
Mamoru Oshii
.
The return under the wings of the master Otomo happens in 1995 when he is chosen to be part of the team that will realize
Memories
, which will be responsible for the screenplay of a 'segment' directed by Koji Morimoto.
But the quantum leap took place in 1997, when he made his debut as a
Perfect Blue
director, in which he placed himself in what would become one of the best anime ever made in Japan, awarded and praised by critics and audiences .
And this will be his first title to open the door on a budget of higher levels to achieve, one after the other, feature films that are undisputed works and projected a little around the world. In 2001 he wrote and directed his second film
Millennium Actress
, a very intimate story of an actress between work and private life. Two years later it is
Tokyo Godfathers
, an agro-sweet comedy set in the homeless world of the Japanese capital, and in 2006 it's
Paprika
, the return to yellow / crime scene with dreamlike settings, themes close to the first Perfect Blue.
But in 2004 we also take a break from big productions by signing the short series
Paranoia Agent
; 13 episodes of the highest level made by the well-known MadHouse studio, a series in which Kon puts all his inspiration, complex themes and symbolism in a dark yellow.
"Satoshi Kon seems to have been catapulted to directing a feature film, among other things with a reduced budget and initially aimed at a public home, but the first work already puts the spotlight on the young director's inspiration, fully reconfirmed in next works, Satoshi writes his works for an adult audience, attentive, demanding, a road not beaten by his colleagues and that under his hands becomes art, and his young age means that his fans can still enjoy for a long time of his genius."
[ Fra ]