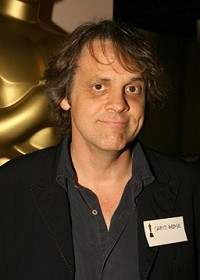 Born March 20, 1957 in Binghamton, New York. He is an animated film director known for the
Ice Age
blockbusters and
Robots
.
After graduating in 1975, he received a BFA in cinematography at the NewYork State University in 1981, followed by a master's degree in Computer Graphics from Ohio State University. Back in New York he continued his studies in the field of computer animations and then co-founded the
Blue Sky Animation studio
, of which he is vice president and executive producer, which has been dedicated to small advertising productions to become one of the best animation studios known all over the world.
In 1982 Wedge worked for MAGI / SynthaVision, the studio that worked on the animations of Disney
Tron
, with the role of head animator. He has also worked on the films Where the
Wild Things Are
(1983),
Dinosaur Bob
,
George Shrinks
, and
Santa Calls
. In 1998, after years of work, the short film made by the newborn Blue Sky studios:
Bunny
. He will be nominated for an Oscar in the same year and will win the prize for Best Animated Short Film.
The most important event of the studios will however be the meeting with the famous Hollywood studios
20thFox
, which will rely on Wedge and partners to construct the hegemony
Pixar
and
DreamWorks
. Fox / BlueSky will immediately give good results: the first feature film
The Ice Age
, where Wedge curated the direction and will lend his voice to one of the most entertaining characters, the squirrel
Scrat
. The feature film, which cost 60 million dollars, will collect more than 380 million dollars worldwide, bringing awards and notoriety to the two studios. The rest is history. A collaboration that has created many animated films made entirely in CG, of the highest technical value, which have won a large audience.
[ Fra - source: Wikipedia ]