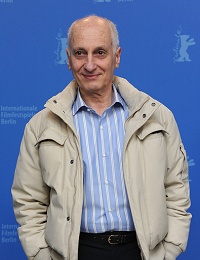 Born October 27, 1943 in Villefranche-sur-Mer, in the French Riviera. His is a pseudonym and no one knows his real name.
He is a French writer, character, storyboarder and director.
Even though he was born in France, he spent his first years in Guinea, West Africa, before returning little more than a teenager to France. Those years will temper him and leave him an indelible memory that we will then find in almost all his works.
His studies as a young man are not properly addressed to the animation sector, more than anything else to the visual arts. The passion for animation will grow thanks to the experiences at the art institutes in Angers and Paris, to the "California Institute of the Arts" in Los Angeles. But his homeland will always be French, where he still lives and works.
His first works as a director featured the little Kiriký, with stories taken from African fantasy stories revisited and remixed according to his visions. But it's the graphic style that always makes the difference. With the two-dimensional animations Ocelot will experiment with mixes with new techniques from "cutout" to 3D modeling and will increasingly develop his passion for "silhouette", one of the cornerstones of his latest productions.
His works are highly appreciated in the world of animated cinema. His admirers include the great
Isao Takahata
(
Studio Ghibli
) who directed the dubbings of his works for the Japanese market.
One of his most appreciated and grandiose works known all over the world is
Azur and Asmar
(2006), a feature film made with different styles of animation and with a multi-ethnic history that is lost in the mists of time.
[ source Wikipedia ]