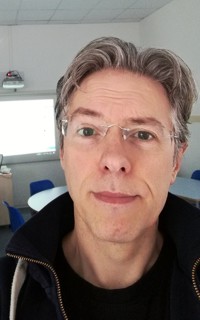 Born Jenuary 14, 1967 in Pisa (Italy).
From a young age, Ortolani showed a great passion for the world of comics, and in particular for
The Fantastic Four
, a
Jack Kirby
and
Stan Lee
popular comic, which will heavily influence his style of storytelling.
After completing his higher studies, he enrolled at the University of Parma, at the Faculty of Geology, another experience that marked him deeply.
During the university period Ortolani draws his first characters, and the theme of geology becomes a catchphrase of the first numbers of his main work,
Rat-Man
.
In 1989 he submitted to the publishing house
Comic Art
two stories: one tragic and the other comic. The publisher
Rinaldo Traini
publishes the comic story on the second Spot (supplement of L'Eternauta dedicated to beginners), thus marking the birth of
Rat-Man
.
The Origins of Rat-Man earned Ortolani the award for best debut screenwriter at the 1990 edition of
Lucca Comics
. Thanks to the acquired visibility, Leo began to collaborate with independent magazines and fanzines.
The turning point for Ortolani arrives in the two years 1994-1995.
Ortolani's work is affirmed thanks to a pungent and intelligent humor, gaining the notoriety of the author: Ortolani uses to answer that success did not give him to the head: "I'm always the same simple boy from Bethlehem!".
In March 1997, regular publication began, with
Marvel Italia
, of the quarterly series
Rat-Man Collection
.
Initially the magazine collected reprints of the old stories of Rat-Man accompanied by unprecedented cross-overs in which the protagonist met the Marvel superheroes. A year later, after the self-produced series with the twelfth release and the special Rat-Man against
Erinni
, Ortolani definitively moved to newsstand production publishing the unpublished stories starting from the fifth issue of
Rat- Man Collection
, which became bimonthly.
[ source Wikipedia ]